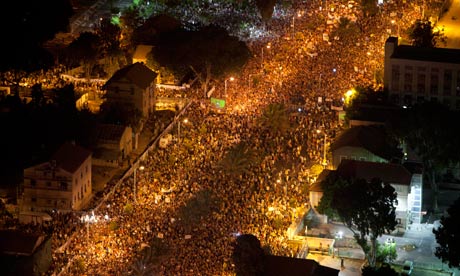 Thousands of Israelis march in central Tel Aviv during a protest against the rising cost of living in Israel. Photograph: Oded Balilty/AP
About 250,000 Israelis have marched for lower living costs in an escalating protest that has catapulted the economy onto the political agenda and put pressure on the prime minister, Binyamin Netanyahu.
Netanyahu planned to name a cabinet-level team on Sunday to address demands by the demonstrators, who in under a month have swollen from a cluster of student tent-squatters into a diffuse, countrywide mobilisation of Israel's burdened middle class.
Israel projects growth of 4.8% this year at a time of economic stagnation in many western countries, and has relatively low unemployment of 5.7%. But business cartels and wage disparities have kept many citizens from feeling the benefit.